Welcome to Aitkin Cranes
Aitkin Crane Services is a member of the Boom Logistics Group of companies and has been established in the Crane hire industry for more than 70 years.  We pride ourselves on our continued high level of on the job support and maintenance of our equipment, "anywhere in Australia" to major mining, infrastructure and construction sites.
Aitkin Cranes  has direct access to a fleet of  over 250 cranes ranging from 5 tonne up to 750 tonnes capacity.  This extensive fleet includes Mobile Hydraulic, Rough Terrain, Franna, Pin-Jib, and/or Crawler mounted machines, which comply with Australian Standards No. 1418, parts 1 and 5.
---
Dry Hire Cranes for Rental
Aitkin Cranes is nationally regarded as one of the foremost p
roviders of dry hire cranes in Australia.   Aitkin Cranes is a customer focused organisation that delivers premium equipment and service backed up by friendly, knowledgeable support technicians.
Dry Hire crane rental involves the delivery of a high quality crane or cranes to your work site anywhere in Australia.  Aitkin Cranes provides the crane, you provide your own licensed operator for the duration of the hire period.
With direct access to a fleet of over 250 machines ranging from 5 tonne through up to 750 tonne capacity, Aitkin Cranes can tailor the right solution for your project however big or small.
Prompt backup support service is available Australia wide 24/7.
When planning the logistical support for your next project, be sure to include Aitkin Cranes.

Safety & Quality Assured
When operating equipment in your workplace that has been provided by an external contractor, you are entitled to receive watertight assurances concerning safety and quality of the equipment.
Aitkin utilise best practice safety management system and quality management system which are subject to external review by accredited external auditors.
ISO9001, OHSAS18001 and AS801 certified.
---
Priority Product Support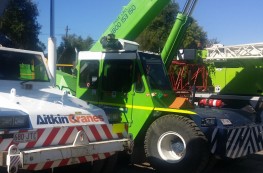 Aitkin Cranes extends unsurpassed levels of support for all crane operating in our Dry Hire fleet.  Clients can expect rapid technical support 24 hours a day, 7 days a week.
Product support in terms of technical advice, operational information, on-site technical work and essential parts supply sets Aitkin Cranes apart from our competitors.
---
Labour Supply
Aitkin Cranes can also supply qualified and experienced Operators, Riggers & Dogman to suit your full crane hire and operational requirements.  Please contact us for pricing and further information on our labour supply options.